Here The Keys to a Good TV Set.
There are a series of keys that we consider essential for a good TV set or scenography.
El diseño de decorados de televisión, escenografías para informativos, concursos, debates, tertulias y series que forman parte del "Channel Branding" de las cadenas de televisión, ha sido para Colorkreis una experiencia de crecimiento y superación.
Hemos desarrollado una gran actividad en el mundo de los decorados de televisión, para diferentes cadenas. La confianza depositada en nosotros ha hecho que numerosos proyectos llegaran a nuestras manos. Retos a la profesionalidad del equipo de diseño, de producción y nuevas tecnologías.
This TV set is an example: ORBITA LAIKA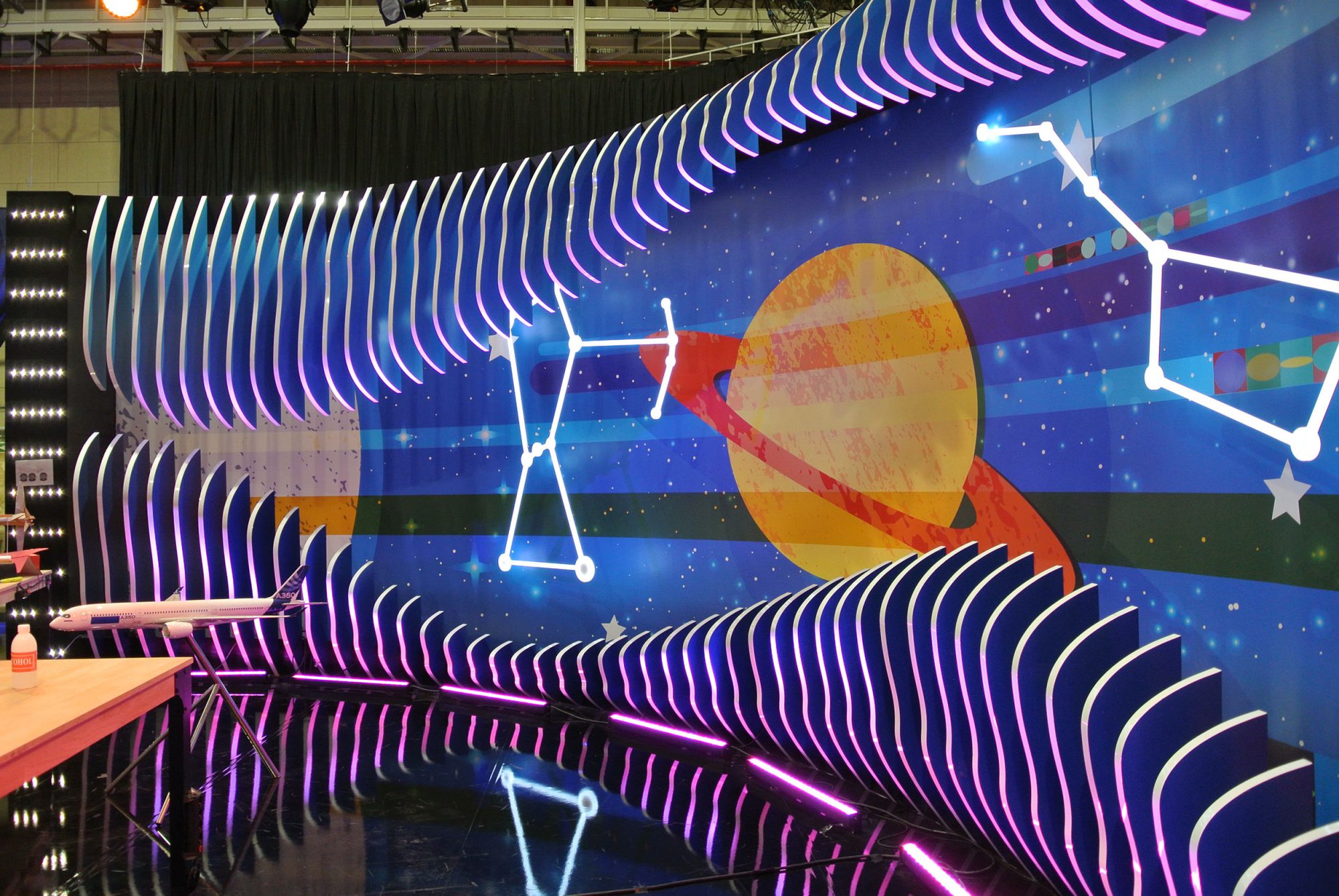 Hay una serie de claves, que consideramos primordiales para acometer un proyecto escenográfico:
Investigación y análisis: Conocer a fondo la producción, cuáles con las necesidades de la dirección, cómo utilizar el espacio, el color, el estilo.
Planimetría y bocetos: Planificar la escenografía teniendo en cuenta tiros de cámara, y el equipamiento audiovisual. Para lo que presentamos bocetos claros y precisos, con los colores y formas apropiados.
Arte escénico: Definir los materiales que componen el decorado para su construcción, pintura, suelos, y fondos. Así como los pequeños detalles decorativos.
Normativas y seguridad: Reconocimiento del emplazamiento del set, y del plató.
Presupuesto: Ajustar los costes al presupuesto disponible de productoras y/o cadenas televisivas.
Calendario: El tiempo es esencial, debemos ajustarnos a las necesidades de la disponibilidad del plató. En ocasiones ocurre que coexisten programas y no siempre está el estudio disponible al 100% durante los montajes de escenografías. Esto lleva a la reducción de las escenografías y siempre se produce en la fase final del montaje. Hay que tener muy claro el calendario de cada fase, para llegar al montaje con el trabajo totalmente definido.
In summary:
Although the planning has been very precise, the measures must always be adjusted. In addition to retesting the situation of the cameras and also the lighting.
Lo más importante, el equipo
Un equipo con habilidades creativas y artísticas, al día sobre las últimas tendencias en diseño, materiales y mobiliario. Con gran conocimiento de los procesos técnicos y de producción, capacidad para trabajar en plazos de tiempo y presupuesto limitados. Flexible, organizado, resolutivo, con interés por las artes escénicas y el diseño de interiores.
El debate de la Academia de Televisión de 2019, con un 54, 1% de cuota, o el programa de divulgación científica Órbita Laika son un ejemplo de decorados de televisión que forman parte de nuestro portfolio.
Arte efímero, arquitectura efímera que quedará para siempre en nuestro recuerdo, porque a través de la televisión y de los escenarios, forma parte de nuestra memoria.
We hope you found these Keys to a Good TV Scene interesting.